P3 Orion Symmetry Validation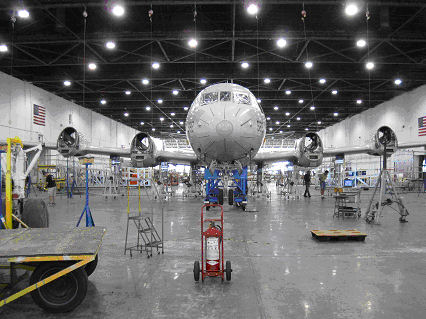 | | |
| --- | --- |
| Customer | Alabama Aircraft Industries, Inc. |
| Location | Birmingham, Alabama |
| Task | Conduct symmetry validation measurements for P3 Orion airframe and adjust body to wing dihedral angles |
ATT Metrology Services (ATT) was selected by Alabama Aircraft Industries Inc. (AAII) to provide precision measurement services to validate airframe symmetry for P3 Orion airplanes during the wing panel and spar replacement process.
ATT was assigned the task to level the plane and then perform the precision measurements required to validate airframe symmetry. AAII had been collecting this data with traditional methods that utilized Plumb bob and tape measures. ATT was employed to convert the antiquated legacy validation procedure to state-of-the-art Laser Tracker portable CMM technology.
Previously these symmetry measurements had taken AAII a week to conduct. ATT rapidly dropped this measurement time to a single day. In addition, ATT's technicians were able to provide real time information for the adjustment of the wing's dihedral angles to within acceptable standards and all measurement data was then stored and recoverable if ever required.