ATT Metrology's dedication to precision goes beyond creating metrology measurement tools and instruments to your exacting standards. We redefine measurement services and take them to the next level.
As the country's trusted metrology measurement and quality inspection services provider, we offer the broadest line of precision measurement services, from initial sampling to large-scale metrology measurement.
Achieve greater productivity, minimize costs and create better products with quality inspection services. Reach out to us to discuss your onsite metrology measurement needs.
PRECISION MEASUREMENT
SERVICES
WHY CHOOSE
ATT METROLOGY SERVICES
Accurate Measurements in All Environments
Non-Contact Capabilities
We continuously innovate and invest in new metrology inspection and measurement technologies to operate with maximum efficiency. Instead of direct contact, we have the expertise to automate imagery, sensors and 3D scanners to measure objects.
Onsite Metrology Services
Get all of the advantages of precision measurement services without logistical hassles. ATT provides onsite metrology solutions so you can have minimal downtime with flexible scheduling and eliminate shipping risks.
Quality Certifications
At ATT Metrology, we set high standards in all our measurement services. Our metrology inspection laboratories are accredited and certified for ISO 9001:2015 Quality Management System Standard and AS 9100 D Aerospace Standard.
WE MEASURE SUCCESS BY THE
EFFECTIVENESS OF YOUR RESULTS
Design Experience – Fusion Power Infrastructure
Due to our long history of providing measurement services to the nuclear sector, ATT Metrology Solutions was selected by LLNL for laser tracker services and total station measurements on the NIF Project. High accuracy alignment of the lasers was critical to the successful outcome of the fusion process.
ATT technicians assisted with valuing and monitoring control networks in the NIF Laser Bays, Switchyards and Target Bay. ATT is also responsible for verifying the fabrication of critical laser fixtures for the creating, filtering and aiming of the lasers as they progress toward the final collision point in the center of the Target Chamber.
On Dec. 5, 2022, a team at LLNL's National Ignition Facility (NIF) conducted the first controlled fusion experiment in history to reach this milestone, also known as scientific energy breakeven. This first-of-its-kind feat will provide the unprecedented capability to support NNSA's Stockpile Stewardship Program and will provide invaluable insights into the prospects of clean fusion energy.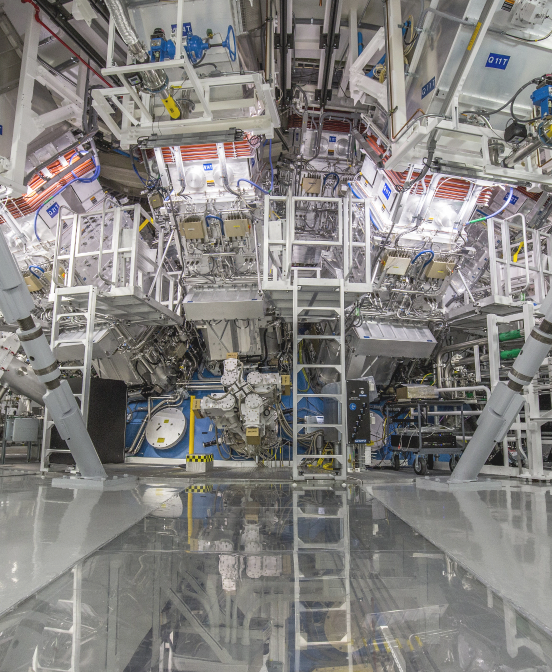 YOUR PRECISION MEASUREMENT
SERVICES EXPERTS
With a premier metrology inspection facility and expert technicians,
ATT has the resources to improve your operational reliability.
Plan your next metrology inspection today.