48″ Photogrammetry Scale Bars
Function
The ATT Metrology Services Carbon Fiber Photogrammetry Scale Bar is designed specifically to be used with Digital Photogrammetry Systems, such as the GSI V-Stars System which requires that accurate scale be established by one or more pairs of photo reflective dots with a known distance between them.
Features
The ATT Metrology Services Photogrammetry Scale Bar has 40 Retro-Reflective dots with interspatial certified distances between each dot. The net result is that by using this scale bar design 100's of known distances can easily be applied to a precision photogrammetry survey which will significantly increase scale redundancy and the accuracy of the survey. For the Carbon Fiber material, this new design makes using traditional low redundancy Invar scale bars a thing of the past.
Material
Scale bar is made of Aluminum, Steel or Carbon Fiber Material.
Dimensions
Scale bar is 48.00″ in length.
ATT Scale Bar Custom Shipping Container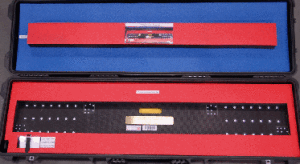 | | | |
| --- | --- | --- |
| Description | Part Number | Price |
| 48" Carbon Fiber Photogrammetry Scale Bar | SB-480000-4 | $4953.00 |
| 48" Aluminum Photogrammetry Scale Bar | SB-480000-5 | $2953.00 |
| 48" Steel Photogrammetry Scale Bar | SB-480000-6 | $2803.00 |
| Custom Shipping Container Sturdy & fits 48" Photogrammetry Bars | SB-480000-CASE | $675.00 |